What are "Super Global High Schools" (SGHs)?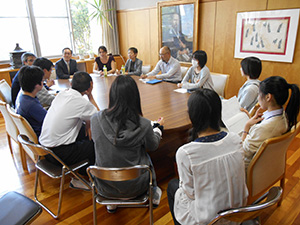 In light of today's ever-accelerating globalization, the Japanese Ministry of Education, Culture, Sports, Science and Technology (MEXT) recognized the need to nurture global leaders for the future. This led the ministry to initiate a program to foster highly capable young people with international competitiveness, beginning at the high school level. Under the program, a number of qualified senior high schools were chosen from around Japan and designated "Super Global High Schools" (SGHs). At SGHs, students will be encouraged to develop a well-rounded international awareness, including foreign language development, broad-based education and cultural awareness as well as finely tuned abilities to identify and solve problems. Valid for a period of five years, the SGH project began in Fiscal Year 2014.
Objectives
Beginning at the high school level, the SGH program aims to nurture highly capable global leaders for the future. Targeted students are expected to develop an international awareness, including an active interest in social challenges and problems, a sophisticated and broad education, and the fine honing of their abilities to solve problems and communicate well with others. These will allow them to play a major role in the international arena. Some of them will mature into leaders who can identify and solve global social issues while others may be on their track as globally active business executives.
Methods and Tactics
SGHs will seek collaboration with universities and businesses that are enthusiastic about advancing globalization. Collaboration will focus on theme projects and related overseas training. (→ By addressing and striving to solve actual theme problems, students will gain a variety of valuable experiences. We believe that through this process, they will acquire all the abilities required of global leaders.)SGHs will develop and implement high-quality curriculums toward this purpose. It is also possible for schools (schools tasked with curriculum research) to develop their own curriculums that are not necessarily based on government curriculum guidelines.
Our School's SGH Designation period: five years / Budget per school for Year 1: less than 16 million yen
SGH-designated schools: 56 in total nationwide / Nagano Senior High School is the only SGH in Nagano Prefecture.
MEXT website: http://www.mext.go.jp/a_menu/kokusai/sgh/index.htm
Background
●Globalization is rapidly progressing in almost all industrial fields and occupations
●An era when the future is highly unpredictable → Highly capable individuals (global talents), who can respond to any situations, are needed. Our aim is to arm them with bona fide abilities to take on their desired role and responsibilities – even two or three decades into the future when the business and social environment may have changed beyond our current imagination.